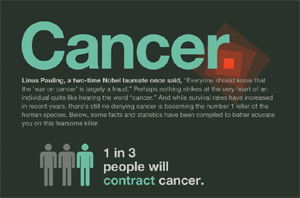 Facts About Cancer (Infographic)
Linus Pauling, a two-time Nobel laureate once said, "Everyone should know that the 'war on cancer' is largely a fraud." Perhaps nothing strikes at the very heart of an individual quite like hearing the word "cancer." And while survival rates have increased in recent years, there's still no denying cancer is becoming the number 1 killer of the human species. Below, some facts and statistics have been compiled to better educate you on this fearsome killer.



Check out and other infographicsinfographics!