Dozens of fans of rival Greek hanball teams PAOK Salonika and AEK Athens have attacked each other with petrol bombs and knives, leaving at least 14 people hurt.
PAOK fans apparently attacked a local fan club of AEK in the central town of Lamia, where they were due to play a cup match.
AEK fans responded, and battles ensued in the streets and the venue.

Police used teargas to regain control of the town.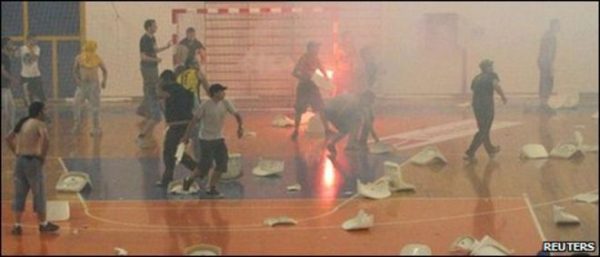 Police watching fans riot Shops and buildings were damaged during the clashes
Residents said the situation was out of control throughout the morning.
Three fans were taken to hospital with knife wounds, Reuters news agency reported.
Lamia mayor Georgios Kotronias accused police of failing to control the fans. Handball officials announced that the cup finals had been suspended indefinitely.
Correspondents say violence between sports fans in Greece is relatively common. All team sports were cancelled for two weeks in 2007 after a brawl between rival women's volleyball fans left one man dead.
« Kittens Falling Down Slide – video
Symbiosis between BMW cars and art »