To any passer-by they're just four blokes chatting football over a pint.
But these four sports fans are proving to be an instant internet hit thanks to their football 'pubcast'.
The group of colleagues have only released two editions of the podcast so far but they already have more than 1000 listeners across the world – enough to see them enter the iTunes charts for the most downloaded sports shows.
The lads, who all work for Trinity Mirror, record their show in the Henry Addington pub, Docklands, London, England every Monday and say they've been surprised by the sudden succes.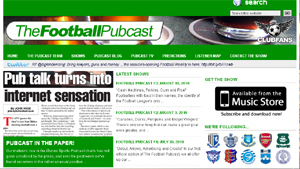 "When we started appearing above names like TalkSport and ESPN we just thought, 'this is ridiculous'," said anchorman Simon Head, a Gillingham fan, who had the idea after recording some blogs about the World Cup.
"I thought maybe my dad would be listening and no-one else, but we've had hits now from 22 countries. We've monitored online every time someone from a new country tunes in – it's like a hi-tech game of Risk."
"It's just stuff you'd talk about with your mates in the pub." said fellow Gills fan Jim Staples."The location is really important – we could do the recording in an office but it wouldn't have the clinking of glasses and back-ground chat that makes it feel so live.
"Part of the interest is that we talk about teams other than the Premier League but a lot is through the power of Facebook and Twitter – we really have the most budget operation going.
The show's panel, which is also made up of QPR supporter Stuart Hoare and Everton fan Simon Pitney, have picked 'second teams' to follow this season. One selection, NK Osijek of Croatia, has seen the show win hunderds of eastern European fans, while the chairman of another, Hastings United, has been in contact to thank them for their interest.
« Sweet Facts About Sugar (Infographic)
Dexter and Other Serial Killers (Infographic) »