Hundreds of people have been moved from their homes and a state of emergency declared after a volcano erupted in Iceland. The evacuation in the early hours of Sunday followed the eruption of a volcano beside the Eyjafjallajokull glacier, the country's fifth largest. Three Red Cross centres were set up in the village of Hella for the 450 evacuees.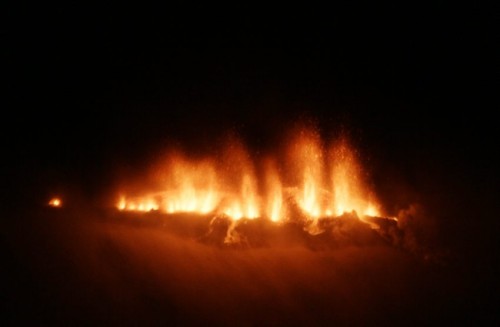 The eruption occurred beside the Eyjafjallajokull glacier, the fifth largest in Iceland. Authorities initially said the eruption was below the glacier, triggering fears that it could lead to flooding from glacier melt, but scientists conducting an aerial survey in daylight located the eruption and said it did not occur below ice.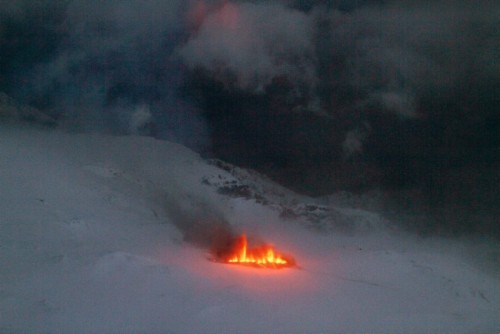 "This is the best possible place for an eruption, as the area is not covered by ice," Tumi Gudumundsson, a geologist at the University of Iceland, said in an interview with the national broadcaster, RUV.
However, scientists also warned that further volcanic activity could be imminent as three previous eruptions at Eyjafjallajokull had all triggered eruptions at Mount Katla, a nother volcano to the east of the glacier.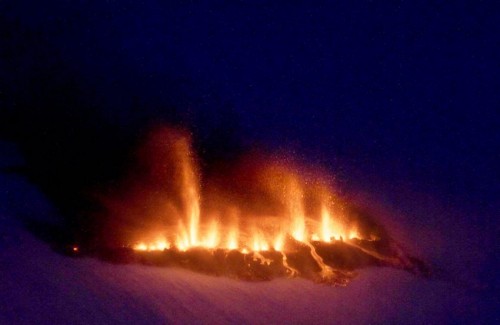 "What we know is that an eruption in Eyjafjallajokull seems to be a trigger for Mount Katla," Pall Einarsson, a geophysicist, told Icelandic state television. An eruption at Mount Katla could melt ice at the top of the mountain causing heavy flooding, Einarsson said.
Domestic were cancelled after the eruption due to the risk of clouds of ash interfering with navigation, the Icelandic National Broadcasting Service reported. International flights were order to stay clear of the area. The last time the volcano erupted was in the 1820s.
Iceland is host to one of the greatest concentrations of active volcanoes in the world with about 130 volcanic mountains many of which have erupted during its history. Situated over a mid Atlantic fault line, between oceanic plates which are gradually pulling apart, Iceland is made up almost entirely of cooled basaltic lava, and, the volcanoes in Iceland continue to fester in its unique hot spot.
« Palestinian Traffic Cop Loves His Job – video
Amazing Goalkeeper Goal from 70 meters -video »