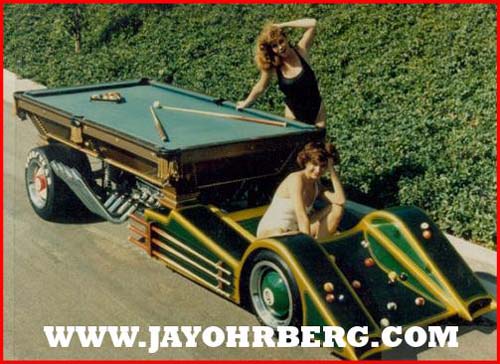 Crazy Cars Collection by Jay Ohrberg
Jay Ohrberg, a unique member of the Hollywood community, is unsurpassed in the fields of automotive design and craftsmanship. He has created some of the most famous and spectacular vehicles on the large and small screens alike. Additionally, he has earned the title "The King of Show Cars" for his abilities as an experimental builder and imaginative designer of specialty show cars. Jay is also a preeminent collector of the cars that inspired him in his own career.

Jay's collection features some of the most recognizable and unique cars ever used in the entertainment industry. These vehicles, both created and/or collected by Jay, have been seen in more than 100 movies, TV shows and videos. At the top of his achievements, Jay was responsible for designing and building the vehicles featured in the blockbuster film Batman Returns. His many other creations include such well-known cars as "Knight Rider," the Back to the Future cars, RoboCop cars,"Taco Bell" TV commercial cars, and most recently the Flintstones' cars. In addition, Jay has designed and built over 500 experimental vehicles with and incredible range of features. The "Pink Panther Limo", the "Piano Show Car", "Bathtub Car", and "The American Dream", a Cadillac limousine measuring 100 feet from bumper to bumper, listed as "The Longest Car in the World" in the Guiness Book of World Records.