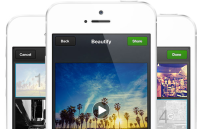 These days, it seems everybody has an iPad and everybody's a filmmaker – indeed, it's easier than ever now, to unlock your inner Spielberg with hundreds of thousands of apps available for download with a tap of your finger.

How do you know which one's for you, then? And how do you separate the good from the better?
Here are our top three video editing apps to transform your personal videos into fully-fledged movie epics.
iMovie
iMovie won't give your videos the kind of polish you could get from hiring professional video editors, but it'll allow you to perform a surprisingly-extensive number of tasks for an app so simple to use – particular highlights include its in-app stock of themes, and its touch-based, intuitive user interface. It's perfect for the video editing novice – and is a great starter app.
It's no wonder it's one of the most popular video editing apps on iOS, given its easy iPad compatibility and no-nonsense operation tools.
iMovie is available for £2.99 on the iTunes App store, making it well worth your money for a crash course in video editing.
Cinefy
Cinefy is a relatively new video editing app offering a pretty impressive selection of over 100 effects for your videos, including numerous sound effects, animations, text and much more to rival the tools of editing professionals.
Its most significant feature must be its customizable soundtrack options, which allows you to add a soundtrack in a matter of seconds direct from your device. You can furthermore splice different clips together with no effort whatsoever.
It also boasts an incredibly easy-to-get-to-grips-with interface, which allows you to test stuff out and discard it in no time at all. The fact that it's free is really just the icing on the cake.
Professional Video editing has never been this much fun.
Viddy
It would be impossible to pick the top three video editing apps without mentioning Viddy. Viddy is unique among the video editing app world, in that it isn't much use for splicing content, or cropping bits and pieces. Viddy, instead, focuses on turning videos into miniature artworks.
In many respects, Viddy is the Instagram of the video editing world – and allows the user to add the final touches to their videos, including arty filters and effects, and innovative soundtracks.
Its interface, though beautiful and super modern, can take a bit of getting used to, as it allows the user to do perhaps more sophisticated video editing than the other two – but with enough practice, it can be easy to master, and it's really worth the small amount of effort it takes.
Viddy's only downside is that you are only able to edit 15 seconds worth of video at any one time, meaning it can be a little impractical and obtuse if you're looking to make a fully-fledged film, but it does mean the user has to impose strict limits on themselves – which is no bad thing.
Like Cinefy, Viddy is free on the iTunes app store and ought to be used as a companion app for the other video editing apps on this list – using it in this way really unlocks its potential. Alternatively, you could swap between apps, in order to get the best of all the worlds.
« 6 Things To Do Before Your Next Trade Show [Infographic]
Champions League – Now that's a fact! [Infographic] »