First, a little history. The concept for the BMW art cars was introduced by Hervé Poulain, an auctioneer and ardent racing driver from France. Poulain was searching for a link between art and cars and he asked his friend and renowned artist Alexander Calder to paint a rolling canvas on the BMW 3.0 CSL that he would race in the 1975 Le Mans endurance race. Poulain's 3.0 CSL was the first car to create a symbiosis between the world of art and the world of motorsport. Prompted by enormous enthusiasm for this work of art on wheels, BMW then decided to put its brilliant idea of establishing the Art Car Collection into practice.
In the years that followed, this unique combination of motorsport and design fascinated the famous artists of our time – Frank Stella, Roy Lichtenstein and Andy Warhol have all turned BMW racing sportscars into Art Cars.

The complete collection of BMW art cars:
BMW 3.0 CSL art car – Alexander Calder 1975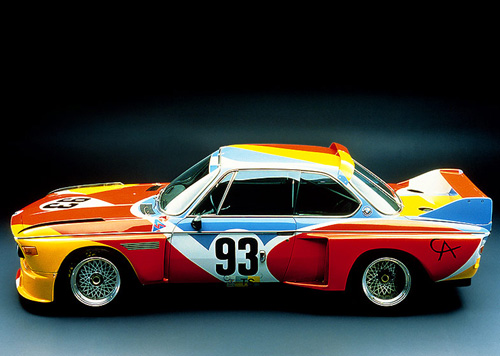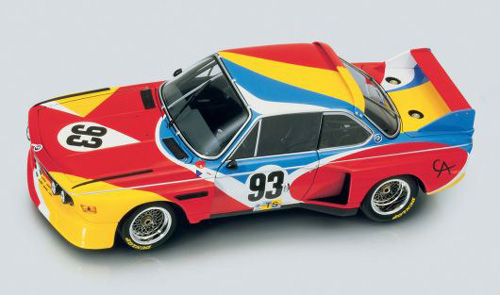 Created by American sculptor Alexander Calder for his friend Herve Poulain, the BMW 3.0 CSL became the first piece of art of an exclusive and unique collection.
Calder's design of the BMW 3.0 CSL was the first Art Car ever, and one of his last works of art before he died in 1976.
BMW 3.0 CSL art car – Frank Stella 1976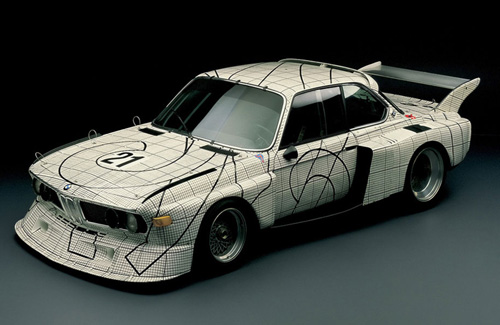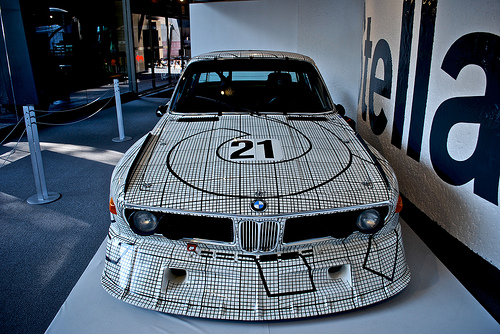 The second Bmw Art Car was created by Frank Stella, an American artist and a passionate motor racing fan, who used a black and white square grid pattern taking inspiration from the technical graph-paper.
In 1976 Frank Stella, an American artist and a passionate motor racing fan was commissioned to create the second Bmw Art Car: a BMW 3.0 CSL coupé.
BMW 320i art car – Roy Lichtenstein 1977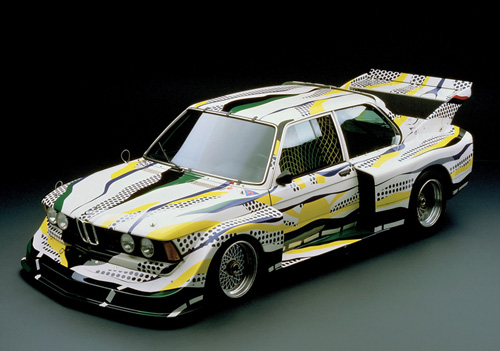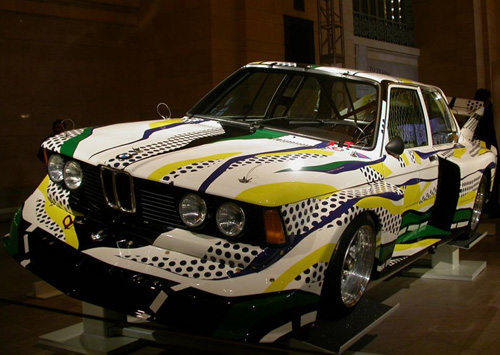 In 1977 Roy Lichtenstein turned a BMW 320i into a piece of his art that was driven by Poulain and Mignot at Le Mans 24-hour race and finished 9th overall and first in class.
When Lichtenstein was drafting his Art Car, he spent a long time thinking about all the things that happen to a car. The result of this critical examination of the car is an amazing blend of aerodynamic qualities on the one hand and artistic skill on the other.
BMW M1 art car – Andy Warhol 1979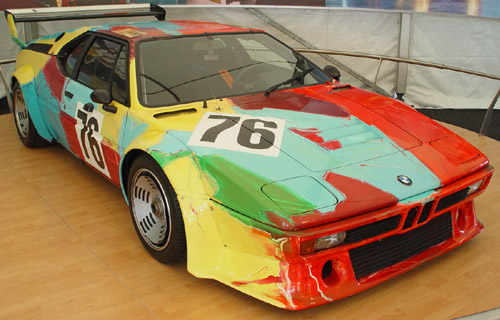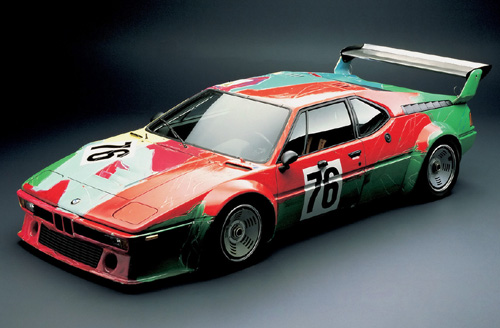 The fourth Bmw Art Car, a BMW M1, was created by the Pop Art legend Andy Warhol who, unlike the previous artists, worked directly on the full-scale vehicle and painted the car himself.
For Andy Warhol to paint an automobile seems natural. His studio was known as a factory and his greatest fame came from portraying Campbell's Soup cans.
BMW 635CSI art car – Ernst Fuchs 1982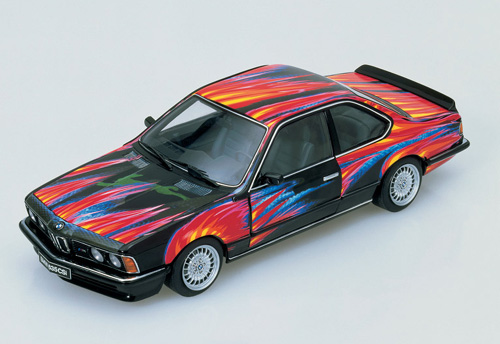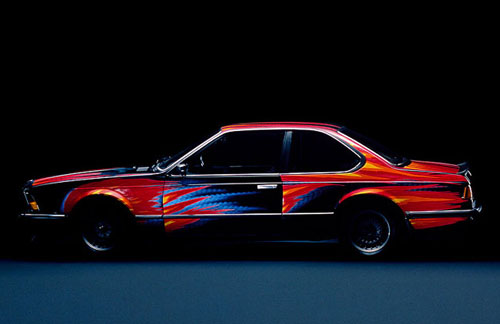 In 1982 Austrian painter Ernst Fuchs created the fifth Bmw Art Car, a 635 CSi. He took his inspiration from a dream he had when he was 5 years old.
On the subject of his work, he says: "In the painting, I gave expression to various experiences, fears, desires and implorations, but also to free artistic creation. I call this car 'Firefox on Harehunt'. It represents a hare racing across a motorway at night and leaping over a burning car the – primeval fear and bold dream of surmounting a dimension in which we live. It tells me its colors, I read them in its lines and shape, I hear its speedy call and can already see the handsome hare leaping through flames of love, driving away fears."
BMW 635CSI art car – Robert Rauschenberg 1986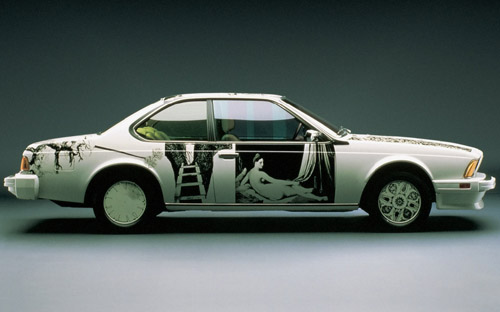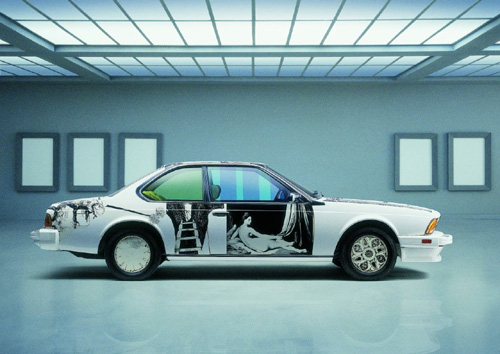 The Rauschenberg BMW 635 CSI Art Car – the sixth addition to BMW's collection of 15 Art Cars – is the first in which the artist used photographic methods to transfer images (including images of famous classical paintings) to the car. Rauschenberg extended his use of Art Car motifs in his six-part, 1988 "Beamer" series – presented as transparent films on enameled aluminum and using his trademark collage techniques. The paintings will be offered for sale from the artist's private collection.
The Rauschenberg car made its first appearance in 1986 at the BMW Gallery on Park Avenue in New York City, and in 1988 made its European debut in West Berlin. Since then it has been exhibited across Europe and was a centerpiece of the acclaimed 1997 Rauschenberg retrospective at the Guggenheim Museum in New York City.
BMW M3 art car – Michael Jagamara Nelson 1989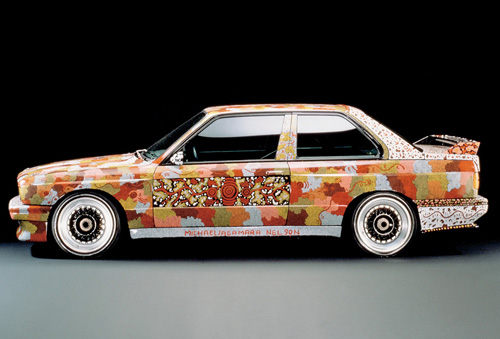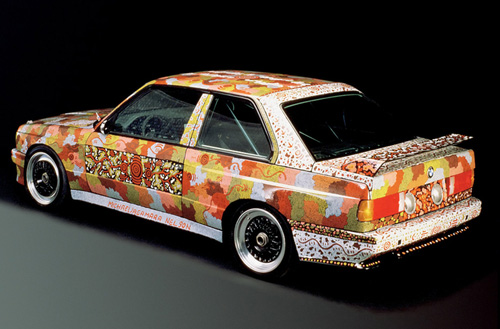 After seven days of tireless work, the Australian artist, Michael Jagamara Nelson, transformed "his" black BMW M3 from the Motorsport section of BMW Australia into a masterpiece of Papunya art.
A draft whose geometric shapes appear deceptively abstract: those familiar with Australian mythology will recognize kangaroos or emus. Papunya paintings, like those of Michael Jagamara Nelson, can be understood as aerial views of landscapes. They feature diverse forms symbolizing water, caves, men and animals – and simultaneously embody religious myths ("dreamings") which have been handed down from one Aboriginal generation to the next in the form of rock and cave paintings for thousands of years.
BMW 535i art car – Matazo Kayama 1990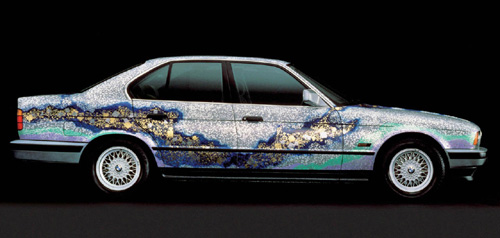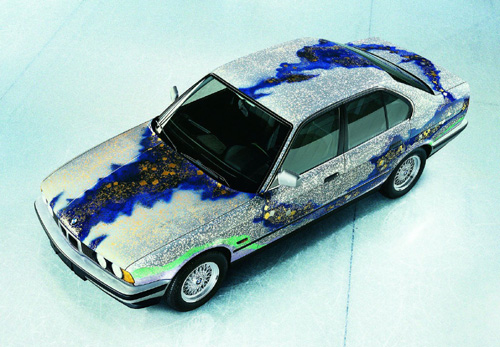 In the design of the BMW 535i, Matazo Kayama wanted on the one hand to express his fascination with BMW technology and on the other evoke vivid associations with modern Japan.
He reverted to his earlier theme "Snow, Moon and Flowers", but painted it in a totally new way using an airbrush. To highlight the contrast and to emphasize the elegant quality of the car, Kayama sprayed fine blue shadows on parts of the silver bodywork and then used classical Japanese techniques in the second phase such as "Kirigane" (metal cutting) and "Arare" (foil impression). He cut out small pieces of silver, gold and aluminum foil individually and transferred them to the bodywork.
The result: Kayama's Art Car does not just reflect timeless aesthetics but at the same time extraordinary elegance.
BMW 730i art car – Cesar Manrique 1990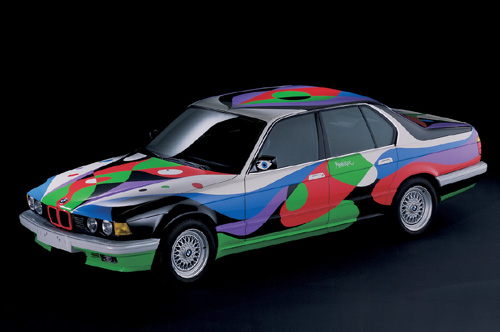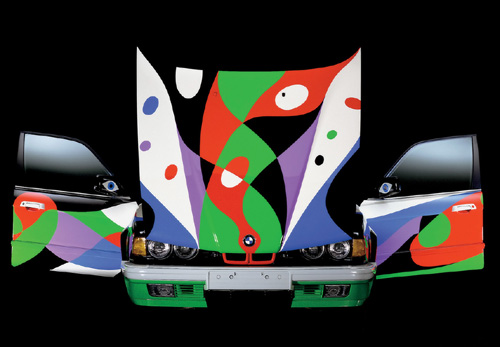 Cesar Manrique had a clear point of view on the design of the BMW 730i: in his eyes, the automobile s an indispensable feature of daily life; it greatly influences the way we see the world around us.
It's no surprise, then, that the artistic examination of the car suggested itself to him. When designing the car, Manrique particularly wanted to "combine the notions of speed and aerodynamics with the concept of aesthetic appeal in one object." And he succeeded: glowing colors and broad, sweeping strokes which blend into the outlines of the car are suggestive of effortless gliding and graceful movement.
BMW Z1 art car – A.R. Penck 1991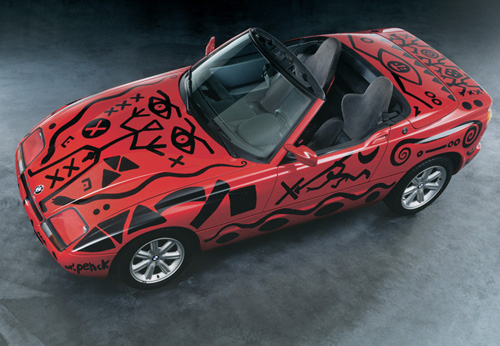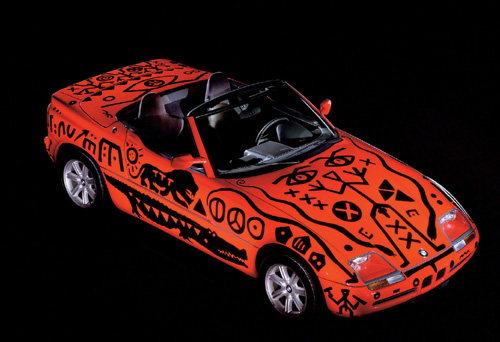 For A.R. Penck, the BMW Z1 was already a "work of art", in which the creativity and fantasy of the engineer and designer were reflected.
An automobile then which simultaneously lives up to the name Art Car in several senses. And it was from the technical design of the Z1 that Penck drew his inspiration for his work. The artist set the modern appearance of the car in contrast with the sign language, which in its simplicity recalls prehistoric cave paintings. However, it is at the same time a challenge to the observer, as the apparently straightforward symbols, evolved by a long process of abstraction, are in fact ciphers to be decoded.
BMW 525i art car – Esther Mahlangu 1991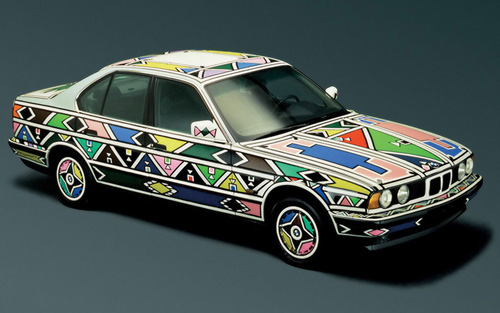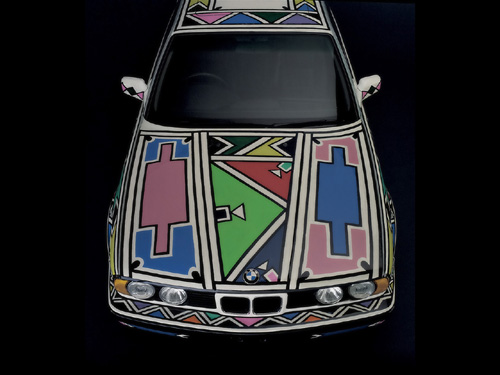 "My art has evolved from the tribal tradition of decorating our homes", said the South African painter Esther Mahlangu of her work.
With the painting of the BMW 525i, she wanted to link this handed-down art form to the modern appearance of the automobile. A challenge that Mahlangu mastered outstandingly with the creation of the first African Art Car.
In order to get a feeling for the completely new medium, the artist first of all painted the door of another BMW, before she ventured to create "her" Art Car. Within a week, she transformed the 5 Series saloon into a masterpiece of African Ndebele art – and established herself as the first woman in the list of international Art Car artists.
BMW 3 Series racecar art car – Sandro Chia 1992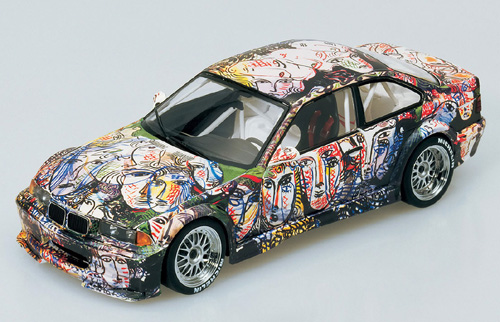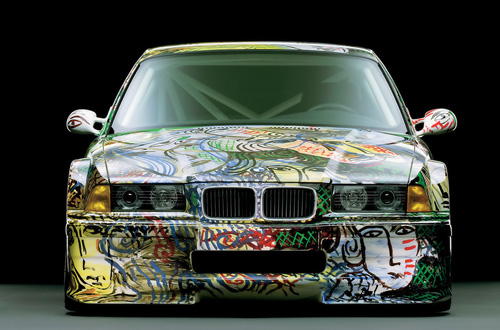 "Paint me, paint me!" these are the words the surface of the BMW called to him, said Sandro Chia on his first meeting with the prototype of a 3 Series racing touring car.
So he painted faces and a sea of vivid colors until the bodywork of the car was completely covered." The automobile is a sought-after possession in society", reflected Chia when he had finished his work. "All eyes are upon it. People look closely at cars. This car reflects their gaze." The design of the 13th BMW Art Car was not Chia's first artistic adventure with an automobile: as a child, he drew graffiti on cars.
BMW 850 CSi art car – David Hockney 1995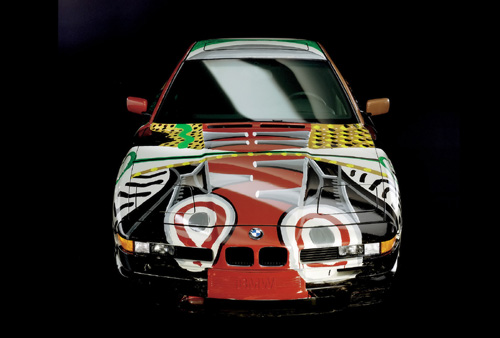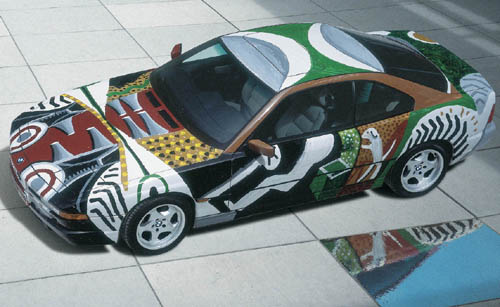 "BMW gave me the model of the car and I kept looking at it and looking at it", says David Hockney on the creation process of his BMW Art Car.
"And then, I must admit, I also looked at the other Art Cars. In the end I thought, probably it would be good to perhaps show the car so you could be looking inside it. "To turn his idea into reality, Hockney took several months and allowed the inside of the BMW 850 CSi to be outwardly visible. Stylized intake manifolds of the engine appear on the hood, and the silhouette of the driver can be seen on the door. And you don't just see the inside of the car, but also excerpts of an abstract landscape. Because "traveling around in a car means experiencing landscapes", says Hockney, "which is one of the reasons why I chose green as a color."
BMW V12 LMR art car – Jenny Holzer 1999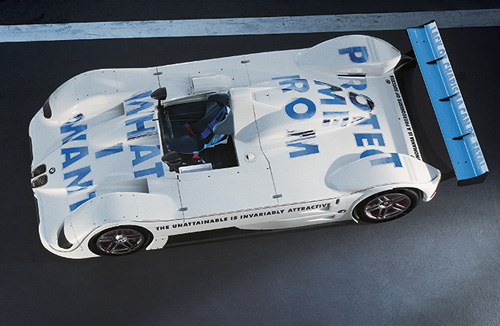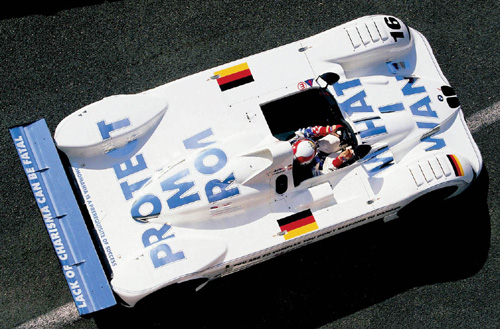 The American concept artist, Jenny Holzer, has covered the 15th Art Car, a BMW V12 LMR, with surprising messages – messages that she says "will probably never lose their relevance".
The expression of her concept is based on traditional features, colours and graphics of the racing car design. Chrome letters made of reflecting metal foil, outlined with phosphorescent colour, give the text an almost magic light effect. What is crucial for the perception of her word art is the context in which it is presented. "Protect me from what I want" – seen against the backdrop of the most spectacular car race in the world, with its battle for places and prestige, the word artist's plea for survival gains a whole new meaning. "You are so complex you don't respond to danger" – a provocation that could not have been put better when referring to the world of motor racing. Jenny Holzer's V12 LMR takes the BMW Art Car idea back to its roots: Le Mans.
BMW H2R art car – Olafur Eliasson 2007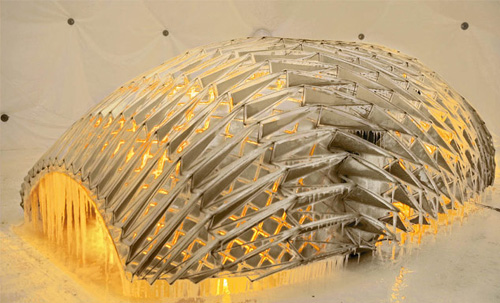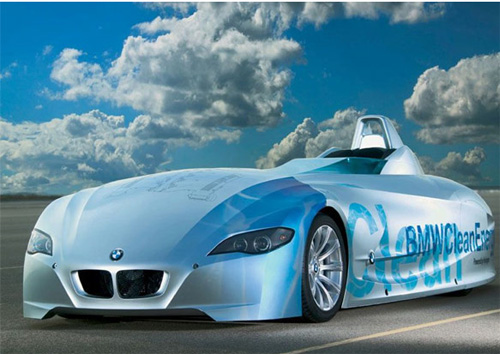 Eliasson's project transforms an object of advanced industrial design into a work of art that critically and poetically reflects on the relationship between global warming and the automotive industry. The BMW H2R race car, a hydrogen-powered vehicle, was developed to attain speed records while pursuing a sustainable future based on the use of regenerative fuel. Eliasson has removed the car's outer shell and replaced it with a complex, translucent skin made of steel mesh, reflective steel panels, and many layers of ice. "Movement has consequences for self-perception".
BMW Z4 art car – Robin Rhode 2009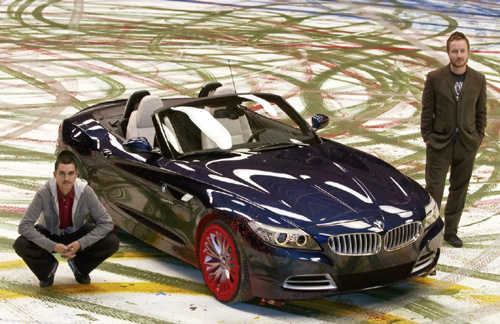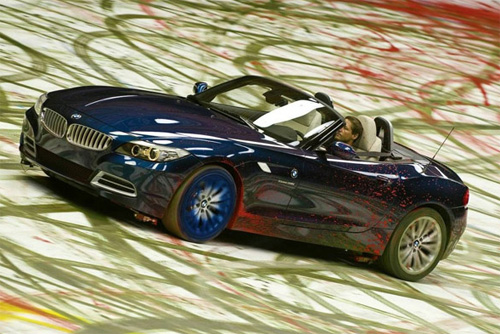 Imagine a canvas nearly as large as a football field. On it bold, swirling shapes in primary colors like red, yellow and blue. As the eye uncovers the rhythm of the lines, curves, circles and color splotches, something else is revealed: these forms must have been created by tire treads! A work of art like no other, created by an artist like no other – the new BMW Z4 Roadster.
Robin Rhode and his team executed the project in 12 hours. That was also the time frame essentially allotted to director Jake Scott and his crew in which to shoot the Z4´s chromatic driving movements. The challenge was that each segment of his film for the BMW campaign needed to be "just right" the first time around.
BMW M3 GT2 art car – Jeff Koons 2010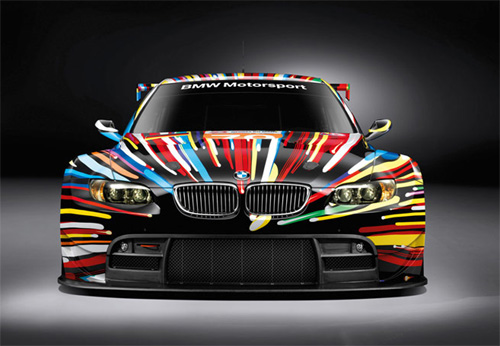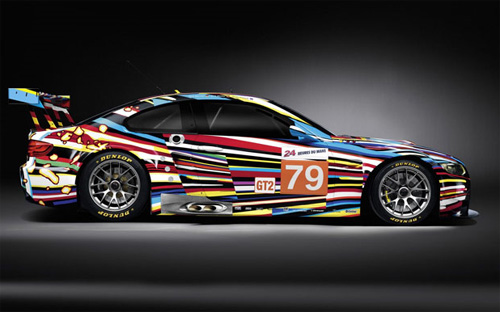 At the premiere of the 17th BMW Art Car Jeff Koons unveiled and signed his car in front of 300 international VIP guests on June 1 in the Centre Pompidou, one of the world's most prestigious cultural institutions for modern and contemporary art. It is the same place where Roy Lichtenstein back in 1977 first presented and signed his Art Car.
Koons has been in an intense collaboration with BMW's team in Munich for months – melding his skill with sophisticated BMW engineering – to ensure that the 17th BMW Art Car will be race-ready for the 24 Hours of Le Mans.
« Fans fight in Greek handball riot
Cristiano Ronaldo – Soccer player, actor or a ballet dancer? »