They're something that we've grown to take for granted over the years, and are now just as much a part of the furniture as the couch. But despite how used to them we get, computers have changed the world in more ways than we can even begin to imagine, and are currently what keeps the world ticking over every day.
Computers can be traced back to World War 2, specifically to the code-breaking machines used against the Third Reich.

A device known as Enigma was causing untold amounts of havoc for the allies, and so Alan Turing and a team of experts set about creating the world's first computer – a complex device that was able to calculate numbers and algorithms in ways the world had never seen before.
After that, it was all about refinement and advancement, going from room-sized computers to the tiny mobile devices that sit comfortably in our pockets today.
Computers are used for a huge variety of different tasks and entertainment purposes, from controlling something as large as the stock market to allowing the average person to sit at home and play video games or even real money pokies. With that in mind, these are the five most expensive computers in the world.
5. 1975 IBM Portable Computer – $19975
IBM is one of the world's oldest and biggest computer manufacturers, and they've produced computers of every shape and size over the years.
While extremely primitive compared to the devices we have today, the IBM Portable Computer was revolutionary for its time, coming with a 5 inch CRT monitor and a tape drive cable of holding up to 204 KB.
4. Ego Bentley Notebook – $20000
This was the result of collaboration between Bentley and Ego in 2008, and was marketed at wealthier Bentley owners who needed a laptop to take with them every day, but also matched their car.
Only 250 were ever made, and were enclosed in hand-stitched leather, much like the seating one would find in a Bentley.
3. Gold Macbook Pro – $30000
The Macbook Pro has always been one of Apple's more expensive products, also making it one of their more powerful.
It's always been aimed at business and content creators, and for many, it's been the ultimate portable companion. While not exactly the cheapest laptop around, a few of these were made even more luxurious by being plated in solid, 24K gold.

2. Otazu Ego Diamond – $350000
Now jumping to the seriously expensive hardware, Ego sets the standard with their Diamond, a laptop meant to act secondly as a handbag.
The normal version comes in at around $5000, but for those that want something special, they can opt for the Diamond edition, which comes complete with 470 pristine diamonds.
1. Luvaglio One Million Dollar Laptop – $1 Million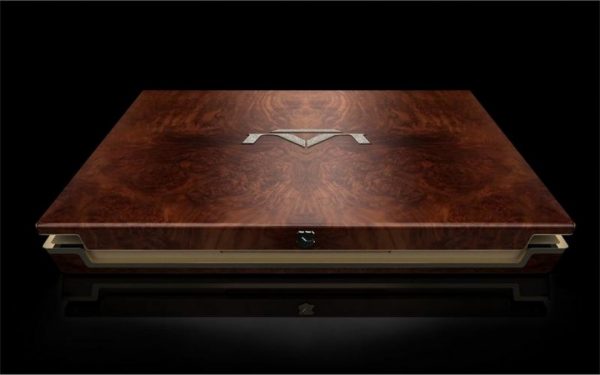 The laptop used here is already state-of-the-art, featuring hardware like a solid-state drive, and much more. But what sets it apart is its case, which is dotted throughout with diamonds.
Diamonds can also be found on the buttons of the laptop, making it the only laptop in the world to breach the $1 million mark.
« Five Incredible Facts About The Human Brain And How It Works
The Hottest Peppers In The World – The Scoville Scale »